Recently I was handed a new Lenovo ThinkPad T495 as my new "sysadmin" notebook to use for the work I do around campus. I asked for this device because I was curious about how openSUSE would work with the newer AMD Ryzen Pro mobile chips and the current notebook I was using was starting to buckle under its age.
This ThinkPad is now setup with openSUSE Tumbleweed and here are some generic thoughts about how things are working out so far.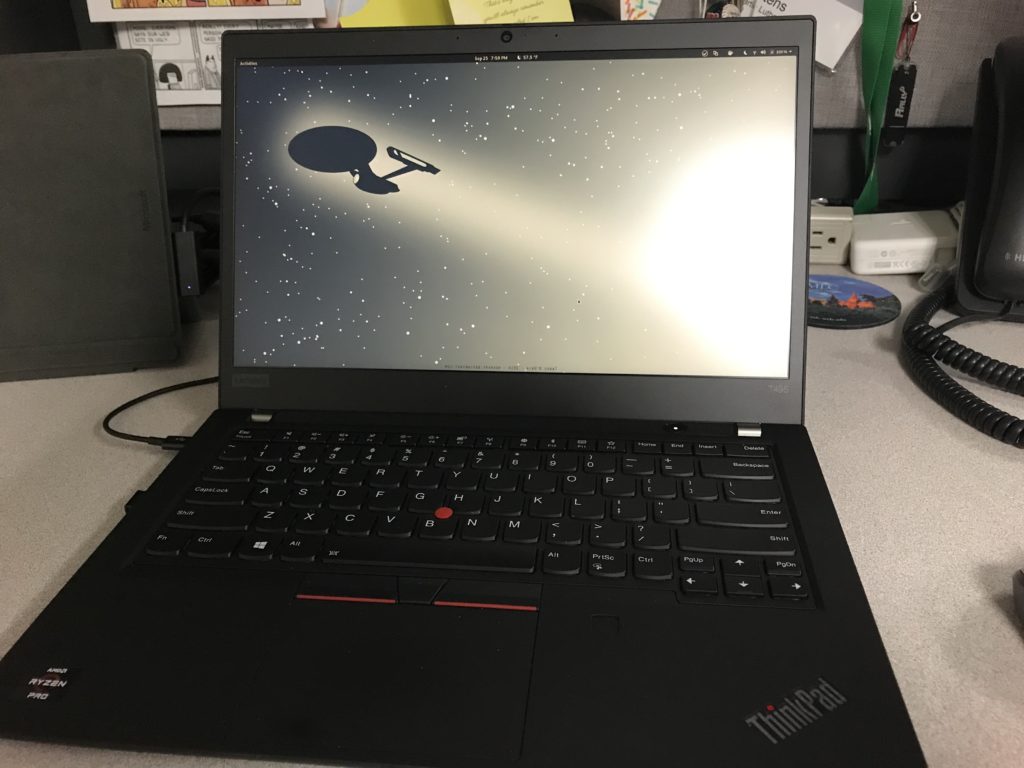 This is the nicest traditional, non-Apple laptop I have ever used. It feels sturdy and the hinge is quite nice.
The screen is matte and full HD, and is quite nice. It isn't the best screen I've seen, and I didn't want a touchscreen for this device, but it is quite capable.
The AMD Ryzen 5 3500U processor is quite capable and more than fast enough for what I need to do. I haven't bothered checking for benchmarks, but openSUSE Tumbleweed is a dream on it.
The keyboard is … OK. I don't hate the keyboard on my MacBook, and there are definitely some things to like about this keyboard over Apple's current designs, but I have had problems typing accurately that I am chalking up to being more used to the shallow typing distance of my MacBook.
It is thin and light enough, but I am finding that the bags that I have been using most are now too small for this laptop even though I didn't think the difference between Apple's 13″ lineup and this 14″ Lenovo machine would be that big of a deal.
If you are going to run Linux on it, aim for as current of a kernel as possible. It runs with openSUSE Leap 15.1 decently, but the switch to openSUSE Tumbleweed was a revelation. The newer the kernel, the better, and I am hoping for continued improvements for AMD's chips in the future.
I will need to get more RAM (8 GB is not enough).
There really is a difference between Apple's Retina screens and something like this (what is being used in business-class notebooks across the rest of the industry). Part of this is going to be software and part of it is going to be hardware.
Everything should have USB-C.
I think I quite like it.
Apple doesn't really offer a notebook like this at the moment and the ThinkPad is not trying to compete with Apple's offerings. When I am using it, I do miss macOS, but part of that may just be familiarity.
At some point I am going to be forced to make a decision around replacing my MacBook, but I will keep seeing if I can wedge this ThinkPad into other parts of my work. One of the first things I did was get Zotero installed and hooked up to LibreOffice to see if I could continue working with my citations there and it works just fine.
If you are looking for a very good, competent, thin-enough and light-enough Linux laptop … I have no issues recommending the Lenovo ThinkPad T495.