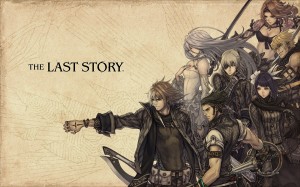 From the mind of Hironobu Sakaguchi and the people at Mistwalker (with music from Nobuo Uematsu) comes The Last Story, a decidedly Japanese action RPG with all of the thematic moldings of some of the more classic Final Fantasy games …
… which makes sense when you have the father of Final Fantasy and its only composer for the first nine numbered games involved in its creation.
I was made aware of this game a few months back just as it was being announced that it was going to be localized for North America and brought over by XSEED Games. Just the idea of Sakaguchi and Uematsu getting together to create another RPG was enough to get me excited, but then the reviews came in very positive and the fact that it was going to be a Wii exclusive made it even better.
However, I didn't really have the time to sit down and begin playing through an RPG when it was originally released. Nonetheless I added it to my "Play In The Future" list so that I wouldn't forget about it.
Fast forward to the beginning of 2013 and I was looking for something new to play on the Wii U. While Nintendo Land and New Super Mario Bros. U are great games in their own right, they are not something I normally sit down and play all of the way through. The Last Story seemed like a good fit.
I've only been playing for a few days, but so far I like it a lot … definitely the best JRPG I've played since Final Fantasy IX and maybe even better than some before that. I'm still getting used to the combat and die probably too often, but I am enjoying myself and so far I've found a way to get past any of the more difficult areas.
Look for more about this game from me in the future. Until then, if you like the Final Fantasy series before X, I recommend picking up this game and giving it a shot.